On this page, you will see my published books. If one catches your interest, you can click the link to buy the book, or you can visit your school or town library and borrow it.

Dog Tales Series

Have you ever watched in wonder as a guide dog and its handler cross a busy intersection without being harmed? Would you like to learn how a police dog trains to find explosives with its keen sense of smell or how bloodhounds trail criminals? If so, you might enjoy reading one of my Dog Tales series of books. Below, you will find the books in the series, along with a short description of each

Working dogs can be heroes—just like people. In Distinguished Dogs, learn how a Port Authority Police K-9 put his life on the line protecting the World Trade Center from bombs; military working canines save soldiers on the battlefield; sled dogs help stop a disease from spreading in Nome, Alaska; and Newfoundland dogs pull drowning victims from the water. Discover how handlers train these courageous canines and how the dogs put the lessons to work to save lives.

"This is a compelling account of how dogs have saved lives and provided invaluable companionship throughout history, earning military accolades and a spot in the hearts of admirers of all ages." Suzanna E. Henshon, Ph.D. —Children's Literature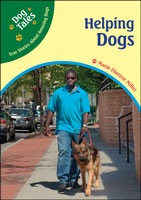 Discover how helping dogs are trained to aid their handlers in leading independent, happy lives. Real-life stories explain how a guide dog can lead a blind person safely across a car-filled street, a hearing dog alerts his deaf handler to her crying baby, and a service dog helps a person in a wheelchair prepare for bedtime.

"A good addition to the Dog Tales series." Ilene Cooper —Booklist

"Miller is very thorough in her treatment of this topic and provides resources for more information, as well as presenting the sense of respect and importance these animals share in our lives... An excellent resource for any library, this is sure to get plenty of use, and as it is so well done, it is a pleasure to read." —Children's Literature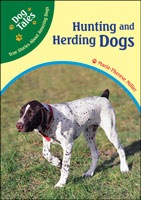 Hunting and herding dogs come in all shapes and sizes. Some have a natural ability to do their work, but training with humans is also important. Learn about how a miniature dachshund forces a rabbit into the path of his hawk-hunting partner, and how the well-trained dogs of Deer Search, Inc. track wounded deer. Discover how a border collie gathers sheep into a pen, and what makes a scrappy Australian cattle dog go head-to-head with a 1,000-pound bull in order to herd it.

"Children who are interested in dogs will like the depth of information here" —Children's Literature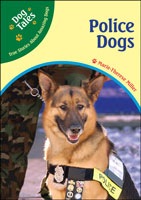 Take an inside look at the training of police dogs and how they get their often dangerous jobs done. Police Dogs provides exciting real-life accounts of police dogs and human partners in action. Learn how a police patrol canine protects his human partner from a criminal, how a police bloodhound finds a burglar days after the culprit has left the crime scene, and how detector dogs use their sense of smell to find illegal drugs, bombs, and more.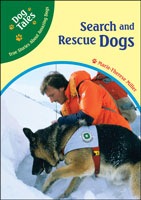 Uncover the difficult training exercises and heroic real-life stories of search and rescue dogs, their handlers, and their brilliant teamwork. Among the amazingly true tales: a disaster search and rescue dog leaps from metal beam to concrete slab while trying to locate an earthquake victim trapped beneath the rubble of a fallen building; a group of children lost in the forest is saved by a wilderness search and rescue canine; and a snow slide buries a young mother, until an avalanche dog comes to her rescue.

Dog Tales books can be purchased at any of the following locations:

Character Education Series

Managing Responsibilities contains concrete tips about how to manage responsibilities at home, school, and at work. You can read about responsible historic figures, like the altruistic four chaplains who sacrificed their lives to save fellow service members, and about everyday teenagers who are doing stellar jobs of handling their responsibilities.

Managing Responsibilities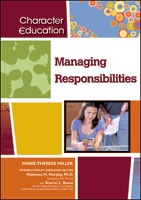 A responsible person answers for his or her decisions and actions. Managing Responsibilities tells the stories of responsible people who made a difference throughout history—including Helen Keller, Eleanor Roosevelt, Ruby Bridges, and modern teens—and suggests to readers how they, too, may become more accountable for their actions at school, at home, with money, and on the Internet.

"These well-written texts provide substantive advice on handling social issues... The information is well-researched and up-to-date...solid resources." —School Library Journal

Managing Responsiblities can be purchased at any of the following locations:

Managing Responsiblities is also available as an audiobook.

"Extremely educational and inspirational —I was the narrator for this book and found it quite surprising. It was one of the most well-written and enlightening books I have narrated. It is written for a younger audience, but as a 44-year-old mom, I learned quite a lot and will require my sons to listen!" —Christian Taylor

Conservation Heroes Series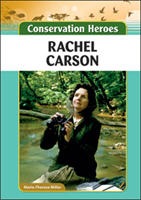 Rachel Carson was a nature lover since childhood. As an adult, she became a marine biologist and wrote award-winning books about the ocean, capturing the imagination of her readers with her poetic descriptions of the sea and its inhabitants. But it was her book Silent Spring that thrust Carson and the hazards of using pesticides into the national consciousness. Silent Spring sounded the alarm about the threat chemical pesticides posed to wildlife and made people sensitive to the ways they impacted the earth. Carson—and her book—are often credited with inspiring the modern environmental movement. Rachel Carson shows how this writer was able to bring national attention to a growing environmental crisis.

Rachel Carson can be purchased at any of the following locations: