I was a miracle baby. At least that's what my parents often told me. They had been married and trying for a child for sixteen years before I was born. I'm not sure about being a miracle infant, but I was certainly blessed to have such loving parents.

My dad was a clinical psychologist and a professor of graduate psychology. Before I made my appearance, my mom was a college professor who taught public speaking. Then, she chose to stay at home with me.

Our home was filled with storytelling and laughter. My mother would regale me with tales of her childhood during the Great Depression. She also gave dramatic poetry readings in our living room. My dad was skilled in the art of joke telling, and when the punch line was revealed, he was the first to laugh.

My folks spent as much time with me as they could, and my Uncle Jack and my five first cousins shared my every birthday and holiday celebration. But, since I didn't have siblings, I spent hours alone with only my imagination to entertain me. Some days, I was a zookeeper and caregiver to eraser animals: a pink lion, a purple aardvark, and a light green dog. Other days, I was an Arctic explorer climbing pretend ice glaciers in my New Jersey backyard with my baby doll strapped to my back. I think all my childhood fantasies help me as a writer.

As you can imagine, I wasn't always satisfied being by myself. Once in a while, I asked my parent for a little brother or sister—but most of my childhood was spent in pursuit of a dog. Unfortunately, my mother was allergic to dogs. That didn't stop me from bugging her day in and day out for a puppy. I had a book that contained descriptions and photographs of various breeds of dogs. Whenever a certain type of dog caught my fancy, I'd request one as a pet. When my mother finally reached the limit of her patience, she bought me an albino hamster. Snowball was a sweet pet. She slept all day and ran on her noisy exercise wheel all night. She just wasn't a dog.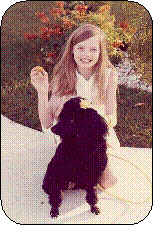 We spent a weekend at our friends' mountain retreat. They had a miniature poodle, and my mother didn't sneeze once during our visit. The week before Christmas, when I was 10 years old, the doorbell rang. I opened it and sitting on the welcome mat was a small black poodle puppy. I named the pup Charbonne. Charbonne became my good friend and joined my Arctic explorations as my trusty sled dog.

As you have probably guessed, I was considered somewhat of a nerd at school. The popular girls kept their distance from me. However, I had a group of close, similarly dorky, friends. Together, we donned togas for the Latin club bacchanalia, feast. We danced the shuffle down the school's tiled hallways before chemistry class. We even formed a pep squad for wrestling. One of our members insisted on cheering in her favorite army boots. (Let me add here that my best friend, Donna, was very cool and not at all a nerd—just in case she is reading this)

My parents believed that education was a priority. I worked hard at school and attended Manhattanville College, where I earned my BA in psychology. Then, a good friend who was a cadet at the United States Military Academy at West Point introduced me to a fellow cadet, my future husband, John. John and I married right after college graduation. The U.S. Army moved us to Lawton, Oklahoma and then to Colorado Springs, Colorado. Our first daughter was born at the United States Air Force Academy in Colorado during a blizzard. My husband had to move road closure barriers to reach the hospital.

After John served his military commitment, we moved to the mid-Hudson Valley in New York, where we still live. Probably because I was an only child, I decided it would be fun to raise a crowd. We welcomed four more children into our lives, three daughters and one son. Our Miller household was a contrast to my somewhat quiet upbringing. Our home was filled with the sounds of karate kicks to walls, squeaky violins, friends, and giggles. We've had a menagerie of animals, including hamsters, rabbits, guinea pigs, and a miniature black poodle named Oreo.

At night, when the house became silent, my children and I cuddled in bed and read books together. I thought, I would love to write books for children and their parents to share. Toward that goal, I returned to Manhattanville College to pursue my MA in writing.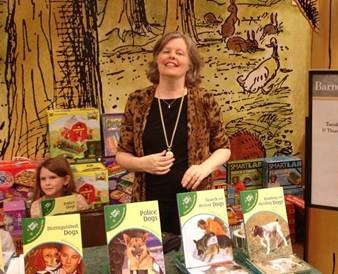 One day, I read an article about the police dogs of the Dutchess County Sheriff's Office. I contacted Chelsea House and asked the editor if she would be interested in a book about police dogs. She said she would like five books about all kinds of working dogs. My dream of writing for children became a reality with the 2007 publication of my Dog Tales series of five books: Distinguished Dogs, Helping Dogs, Hunting and Herding Dogs, Police Dogs and Search and Rescue Dogs.

My book, Managing Responsibilities, was published by Chelsea House in 2009 as part of its Character Education series for teens. My newest book, Rachel Carson, was published by Chelsea House in March 2011.